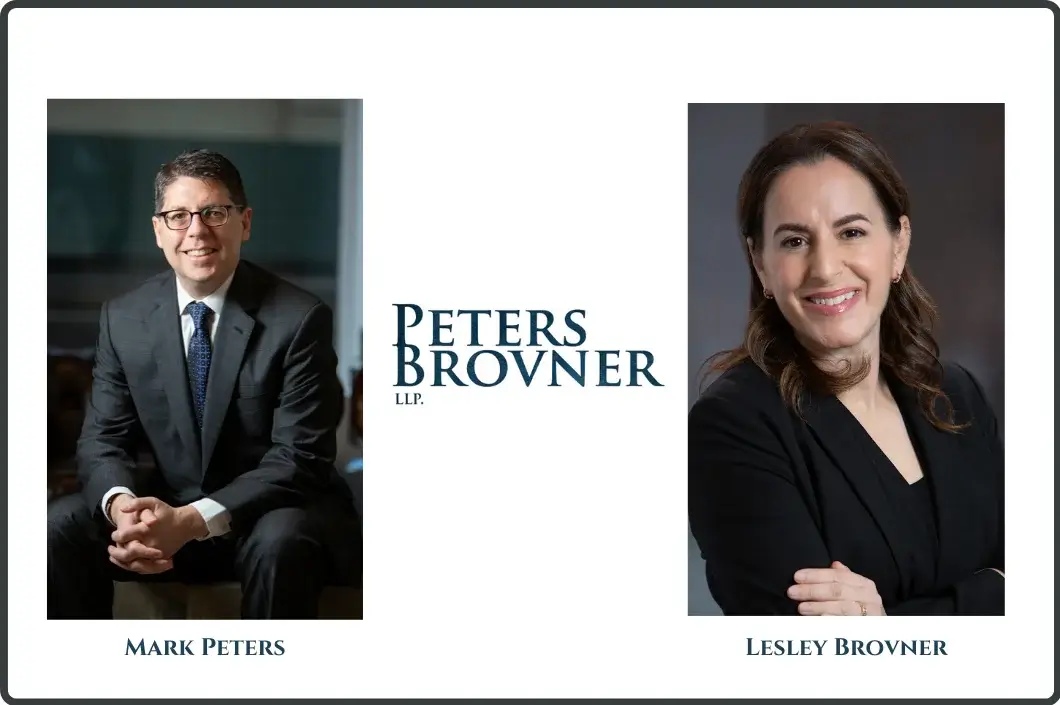 Peters Brovner LLP is a boutique law firm focusing on litigation, internal investigations and regulatory matters.
Founding partners Lesley Brovner and Mark Peters represent individuals seeking redress through civil litigation. Peters Brovner also focuses on holding City, State and private institutions accountable for actions that result in significant harm, including failure to protect individuals from sexual abuse and failure to abide by their legal, statutory and contractual obligations. Additionally, Peters Brovner conducts internal investigations for entities that believe misconduct may have occurred within their organization and creates ongoing compliance plans for those organizations. Finally, Peters Brovner represents companies and individuals facing significant investigatory and public relations threats, including clients who need to determine the scope of their exposure and those who already require representation before prosecutors and regulators.
Mark and Lesley have decades of experience in law enforcement, serving at the highest levels of City and State government. Clients receive aggressive advocacy and thoughtful counsel, as well as expertise on reducing risks before they occur.
Peters Brovner LLP Sues Fordham University under the Adult Survivors Act
secureadmin
Peters Brovner is proud to have filed this latest Child Victims Act case
secureadmin
Lesley Brovner and Mark Peters Co-Author Lexis Practice Note Article on Employers Reporting Criminal Activities of Their Employees to Law Enforcement
secureadmin
Does Title IX Apply to Private Schools in New York?
secureadmin
Office Address
139 Fulton St. Suite 132
New York, NY 10038